The Mini 40 class was privileged to be granted a long weekend of racing at Wattle Farm. A small class in terms of numbers on the water, it consists of owners who are forever seeking improved performance and the thrills of foiling in a class with minimal rules: 122cm long, 122cm wide and 0.9sq metres of sail area are the three basic not-to-exceed parameters. 2 hulls, 3 hulls, foils, no foils, no minimum weight, 1 mast, 2 masts….. take your choice. 
A nd this weekend we had one of the best mixes of designs ever brought together for an event. Leon with his polystyrene cat (actually he had two of them in his camper van, still evaluating a number of conceptual design configurations). Rudders at front and back of the boat with the options of adding different size T foils on both, plus foils in the hulls, combined with raked twin unstayed masts added up to something rather new.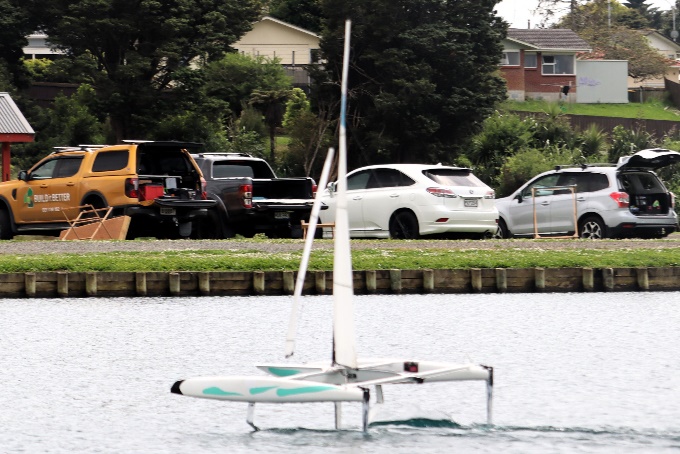 Above left: Anthony's cat. Above right: Dylan's cat. Both boats have the same hulls.
Another long awaited boat to be seen was the new cats coming out of Taraunga. Two were in action, the hulls made by Anthony, and fitted out and sailed by Dylan and Anthony. Identical hulls, both had twin rudders that were independently controlled by sliders on the transmitter, so that lift could be applied to the lee T foil/rudder, and hold-down applied to the windward T foil/rudder. Very fine foils with vertical tips were combined with high aspect ratio centerboards, the centerboard being required to reduce the sideways load on the foils. Dylan's boat had quite sophisticated rigs, with considerable effort being made to create an end-plate effect at the bottom of the sails. To add to this, Dylan's #1 rig has a rotating wing mast….. Anthony's cat was 9cm narrower, influenced by the size of car that he had at the time of building the boat.
The 4th cat racing was Paul's heavily modified cat that he designed and built for the event at Pegasus back in 2022. It was originally over-built and consequently only shone in a breeze, so Paul has been busy taking weight out of the hulls and building a completely new centre pod.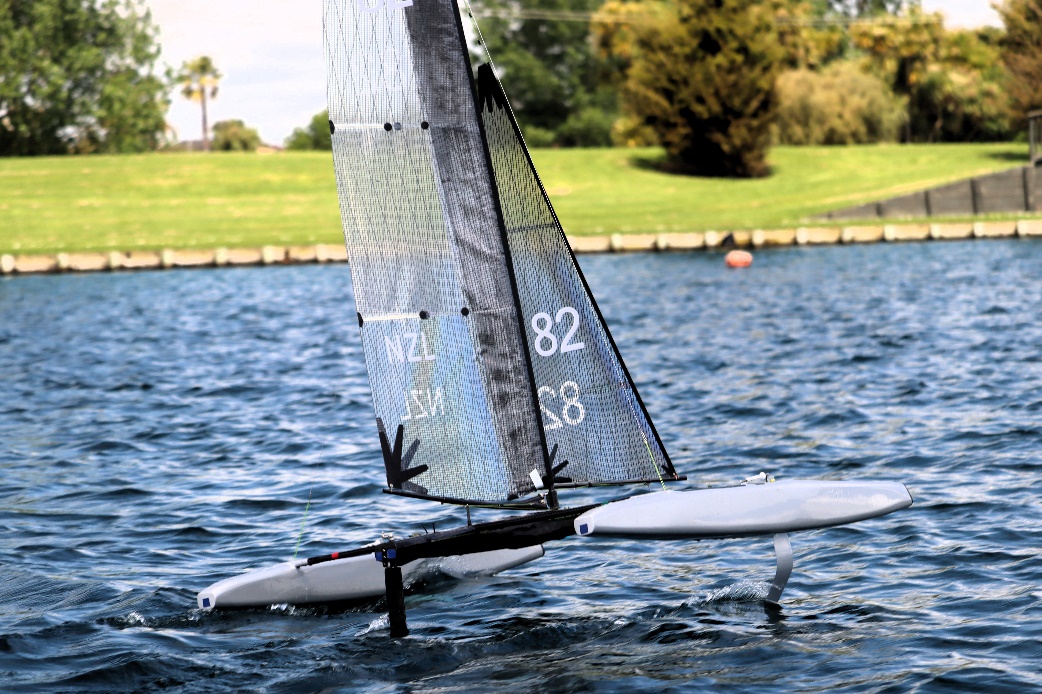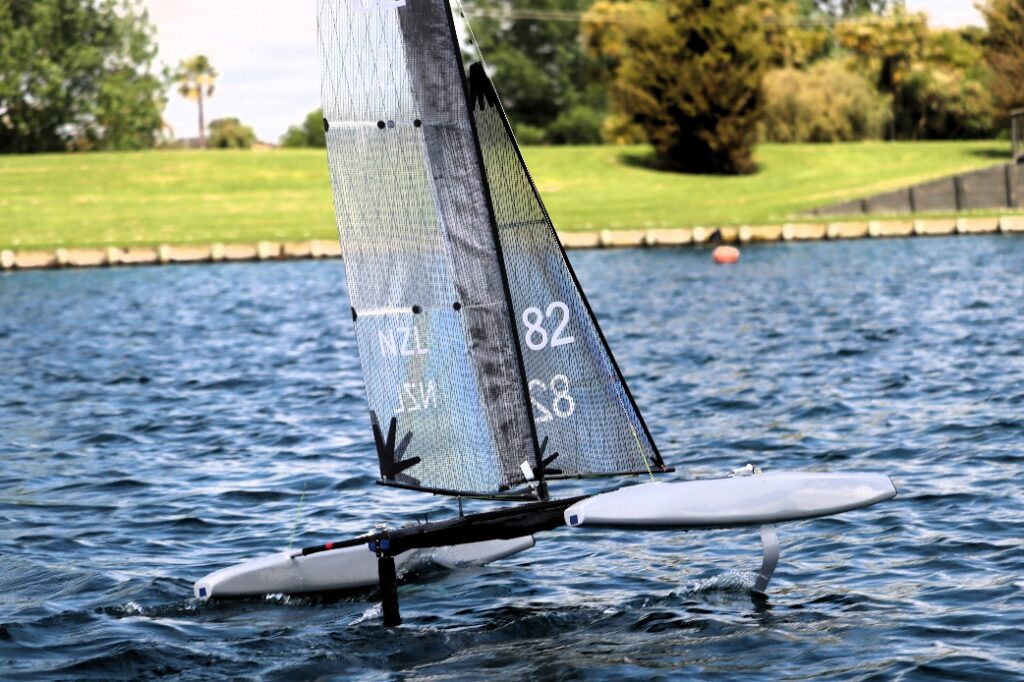 Above: Paul's home built cat
Tackling these 4 cats were 3 trimarans: jukeBOX, the original prototype jukebox, now owned by John (who was also organising the event), designed by Dave Burke and Ian and built by Dave in West Australia; another was Bingo! Recently purchased by Chris who was having his first races with the boat. Designed by Ian Holt and built by Dave Creed in the UK. The third tri was Dave's latest offering Bad Habit, originally built for himself but now sailed by Ian. Like Bingo! this was the boat's first racing outing, so no previous form guide.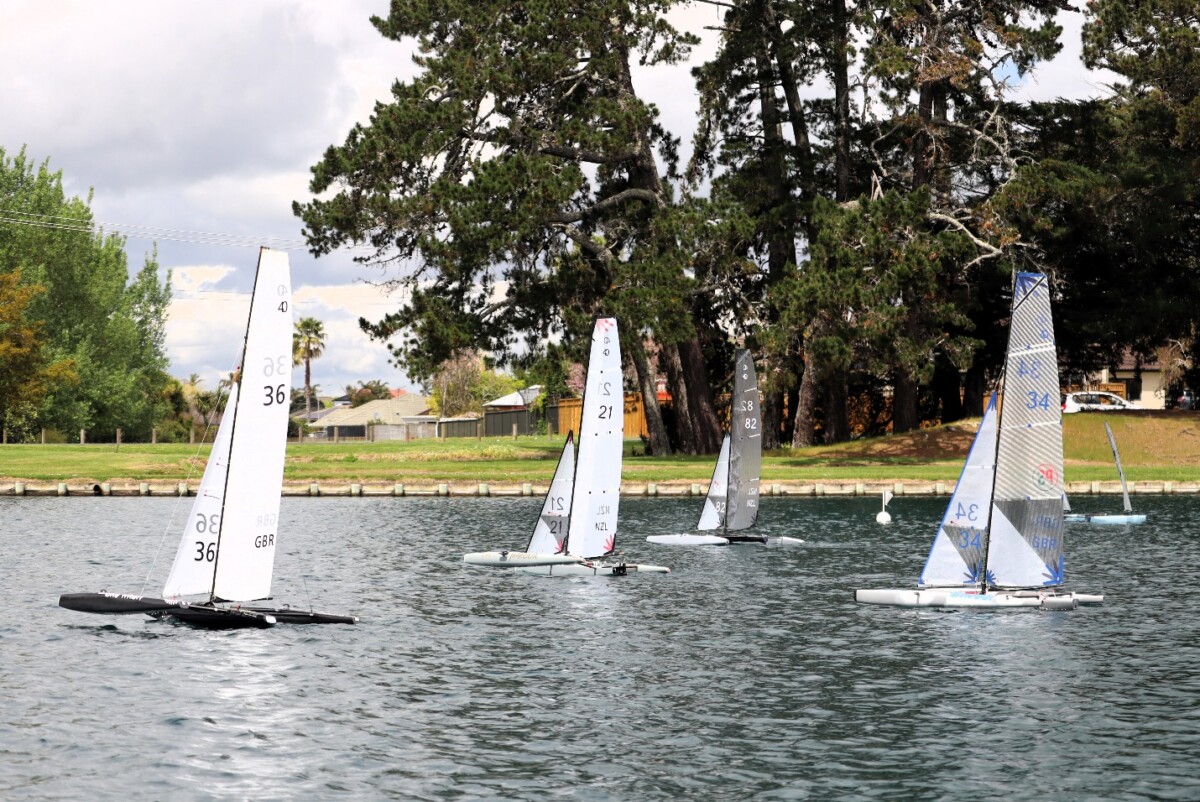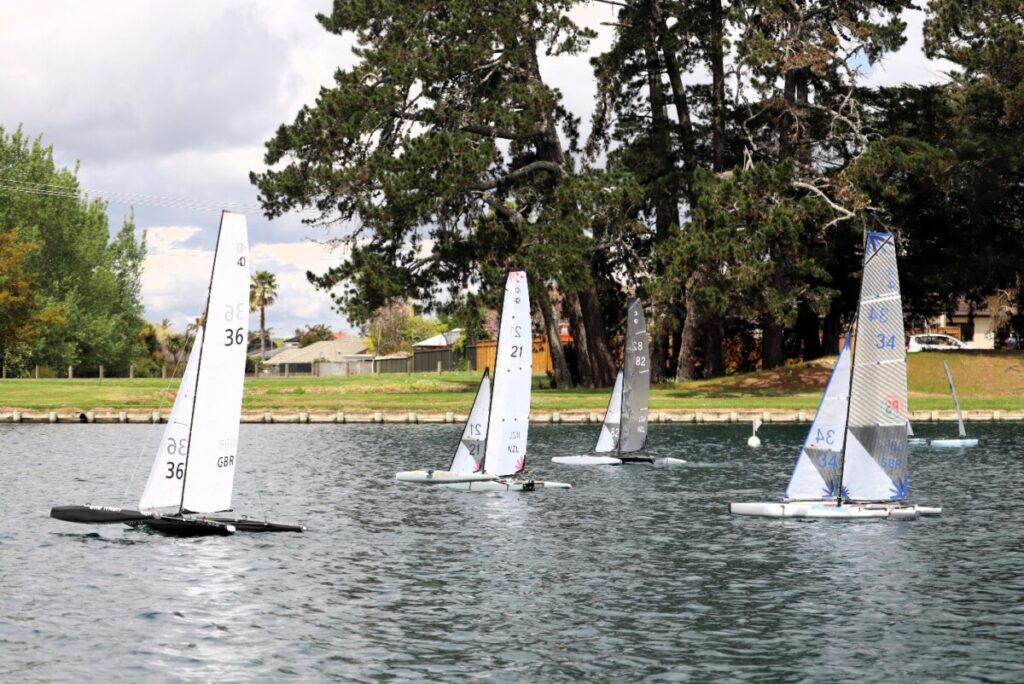 Above: the top 4. From Left: Bad Habit, jukeBOX, Paul's cat, Bingo!
Making up the entry list was Craig who brought along one of the original fiberglass One metre BOX tris, built by Dave Burke. Designed as a sports boat to give people the fun of foiling with a smaller boat, this is not a full size Mini 40.
Day 1 saw light winds throughout the day, and for Dylan and Anthony this was bad news, as their slim cats depend on the foils for stability, and as a consequence suffered with drag from far too many appendages. Others who could swap out the foils for centerboards dominated the racing, with wins by Bad Habit, Bingo! and jukeBOX. 9 races held.
Day 2 was busy for all competitors as the wind steadily increased during the day to healthy foiling conditions, and the decision as to when to swap form centerboards to foils (and in Leon's case, when to change size of T foils on the rudders) and when to downsize rigs became critical. The lighter conditions in the morning saw some wins for Paul's cat, but after lunch the majority of wins came from Bad Habit and Bingo! even though Bad Habit snapped a foil, with boats using either their #2 or #3 rigs over a course that consisted of a long beat down the lake followed by a zig-zag back down to the leeward mark, offering foiling opportunities for those with foils. By now a pecking order of #36, #34, #21 and #82 had evolved but there was still one day to go. Dylan's blue cat was starting to show its promise, sometimes literally sailing rings around the fleet, with the ability to foil to windward and perform foiling tacks, and when the wind was steady was easily sailing at twice the speed of the other boats, but the boat requires a steady breeze to dominate the fleet, and that was not happening, and all too often the cat suffered through slow speed displacement tacks which undid all the stunningly fast sailing beforehand. Leon was discovering one of the benefits of the twin masted rig was that with the centre of effort of the rig so low, there was no need to reduce sail area! 14 races held.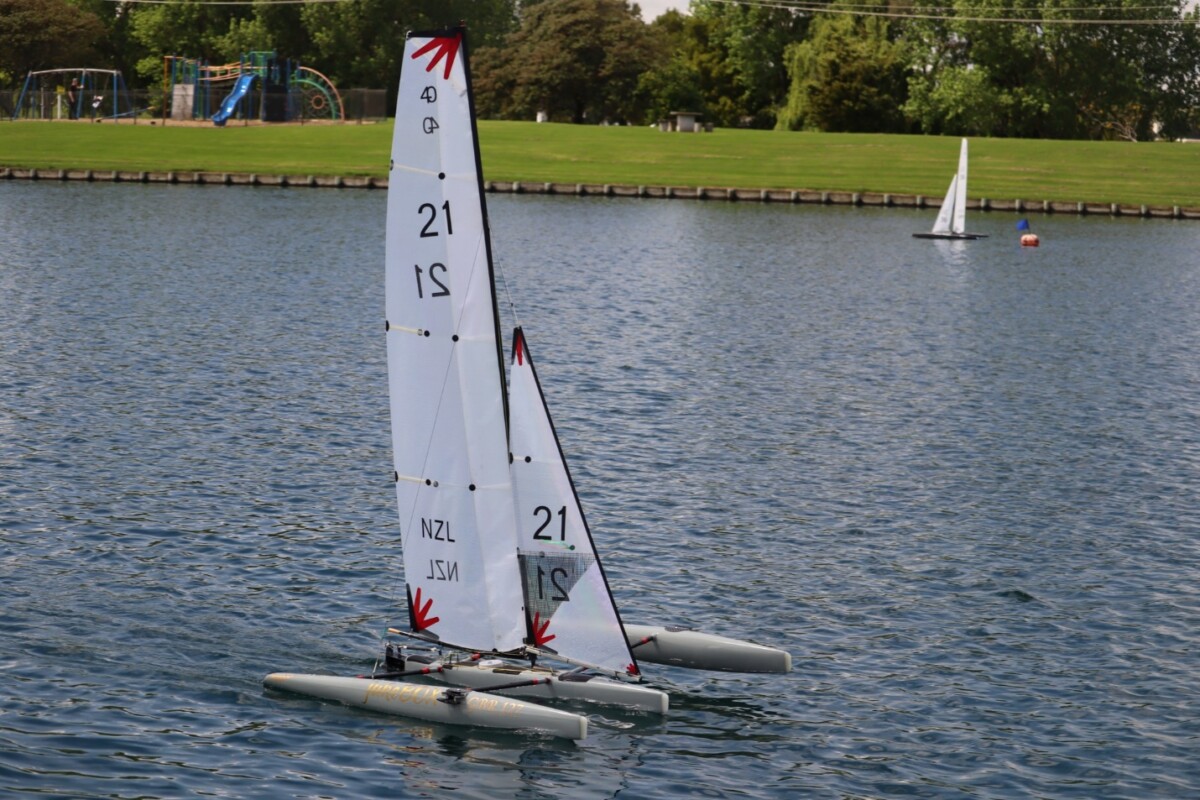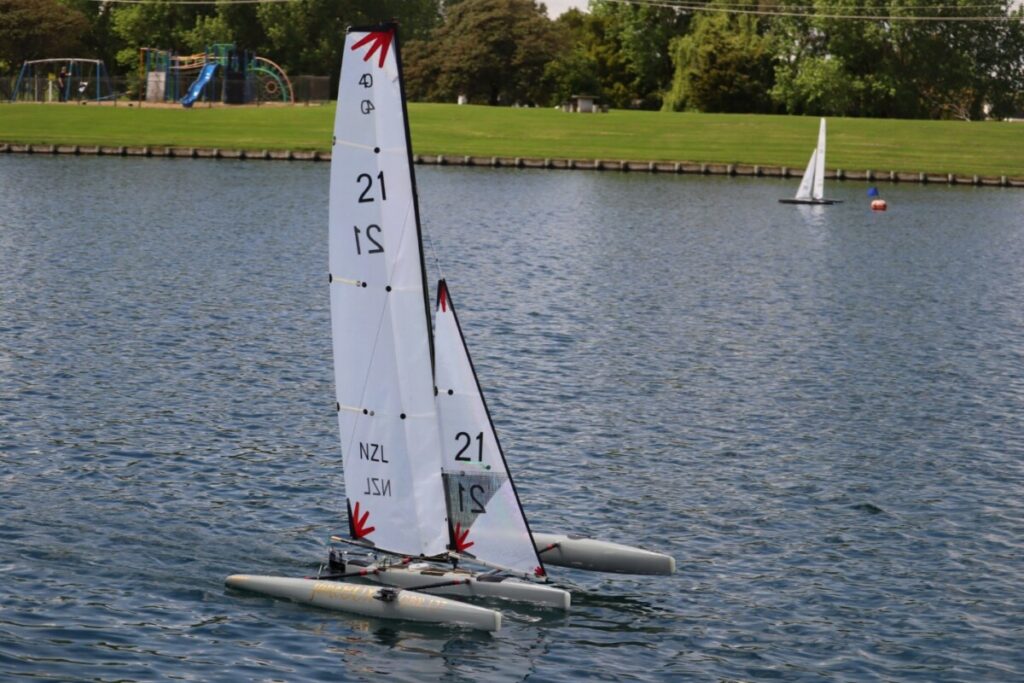 Above: John's jukeBOX tri
Day 3 saw the wind lighter once again in the morning but still built up to a breeze that was just enough for foiling and the highlight of the day was probably Dylan managing to stay up on the foils long enough to finally win a race, after coming very close in a previous race, leading at the final mark with only a short beat to the finish but could complete his final tack before Bad Habit passed him in the final 20 metres. This win was backed up with a string of 3rd places and Dylan should be well satisfied with his progress during the event. Paul managed to overhaul jukeBOX to move up into 3rd place with some good performances, while Bongo! Held on to 2nd, but could not catch Bad Habit, which, mainly due to good upwind speed was managing to maintain a lead at the front of the fleet, and was the only foiling boat not to change to foils on the final afternoon, instead using a larger centerboard which resulted in a surprising improvement in upwind performance. 20 races held.
Overall, Bad Habit had a reasonable lead over Bingo! with Paul's cat moving up to 3rd place overall ahead of jukebox (think the helm had some distracting phone calls during the day…). Dylan finished 5th overall but this is not representative of the boat's speed which was easily significantly faster than any other boat, and the sight of the cat blasting off the start line at double the speed of any other boat is a sight to behold, but the event proved the need for an all-rounder to win over a one or two days event. His windward foiling performance was especially impressive and Dylan has shown a way to the future, but still needs to overcome the impact of having so much drag in the light winds.
Also worthy of a mention is Leon's twin masted cat which has demonstrated that the twin masted concept is worthy of further development, possibly with more upright rigs for light winds. Craig with one of the early 1metre Box tris, was easily the most photogenic boat on the water, and doing well on day 3 considering its considerably shorter length.
A great event. Many thanks to the club at Wattle Farm for letting the multihulls on their water, it was appreciated by all competitors, and thanks once again to John for holding it all together for the 3 days of racing plus the practice day beforehand. Next stop is Pegasus on the South Island, practice on Thursday 9th November, then 3 days of racing ending Sunday 12th November.
| | | | | | |
| --- | --- | --- | --- | --- | --- |
| Helmsman / sail number | Cat / tri | Boat design | Boat Builder | Overall points after discards | Number of wins |
| Ian Holt 36 | Tri | Bad Habit | Dave Burke | 57 | 22 |
| Chris Heywood 34 | Tri | Bingo! | Dave Creed | 82 | 9 |
| Paul Goddard 82 | Cat | Own design | Own build | 108 | 5 |
| John Beavis 21 | Tri | jukebox | Dave Burke | 120 | 6 |
| Dylan Mckinlay | Cat | Own design | Own build | 206 | 1 |
| Craig Dawson 10 | Tri | BOX (1 metre) | Dave Burke | 242 | 0 |
| Leon Talaic | Cat | Own design | Own build | 244 | 0 |
| Anthony Sisson | Cat | Own design | Own build | 295 | 0 |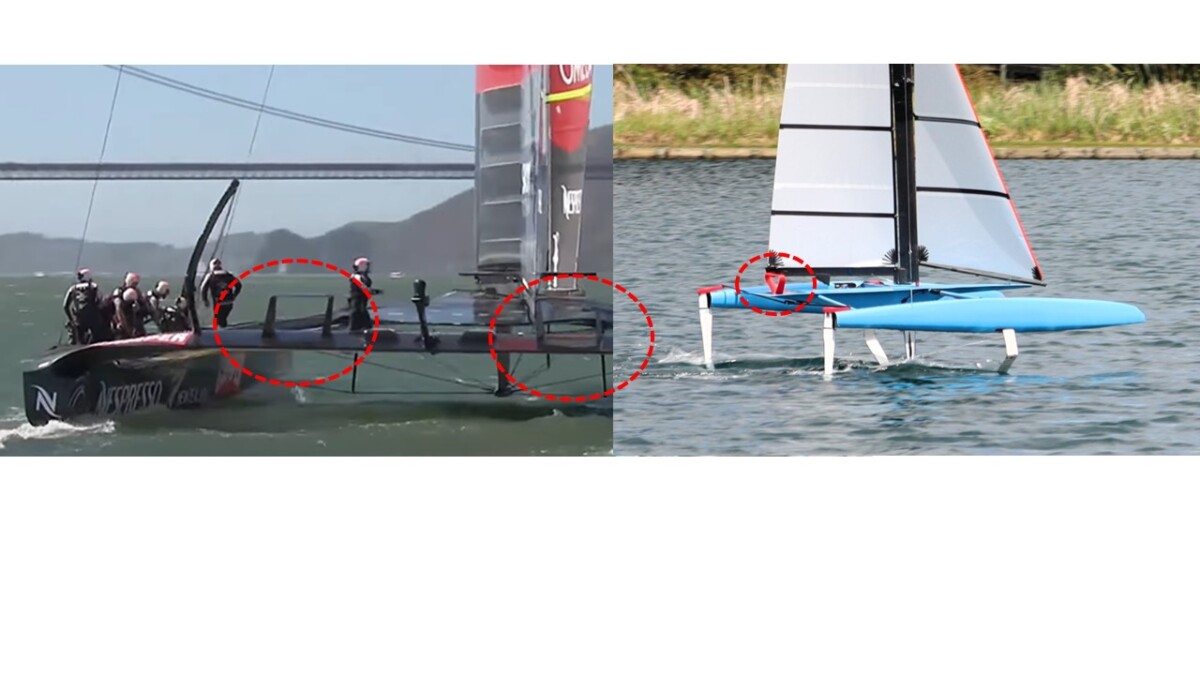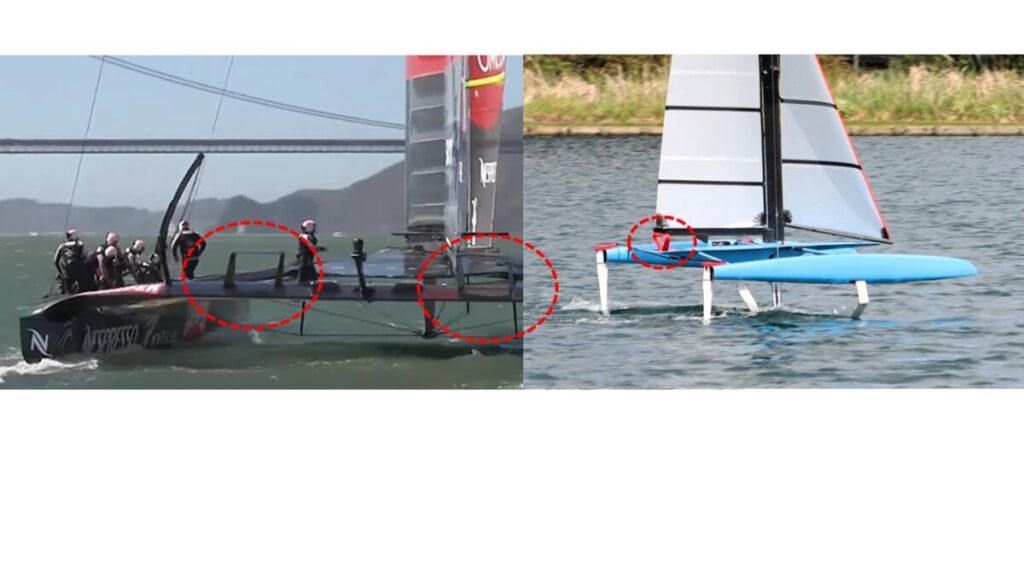 Above: the secret is out as to the purpose of Dylan's wing on his centre pod…..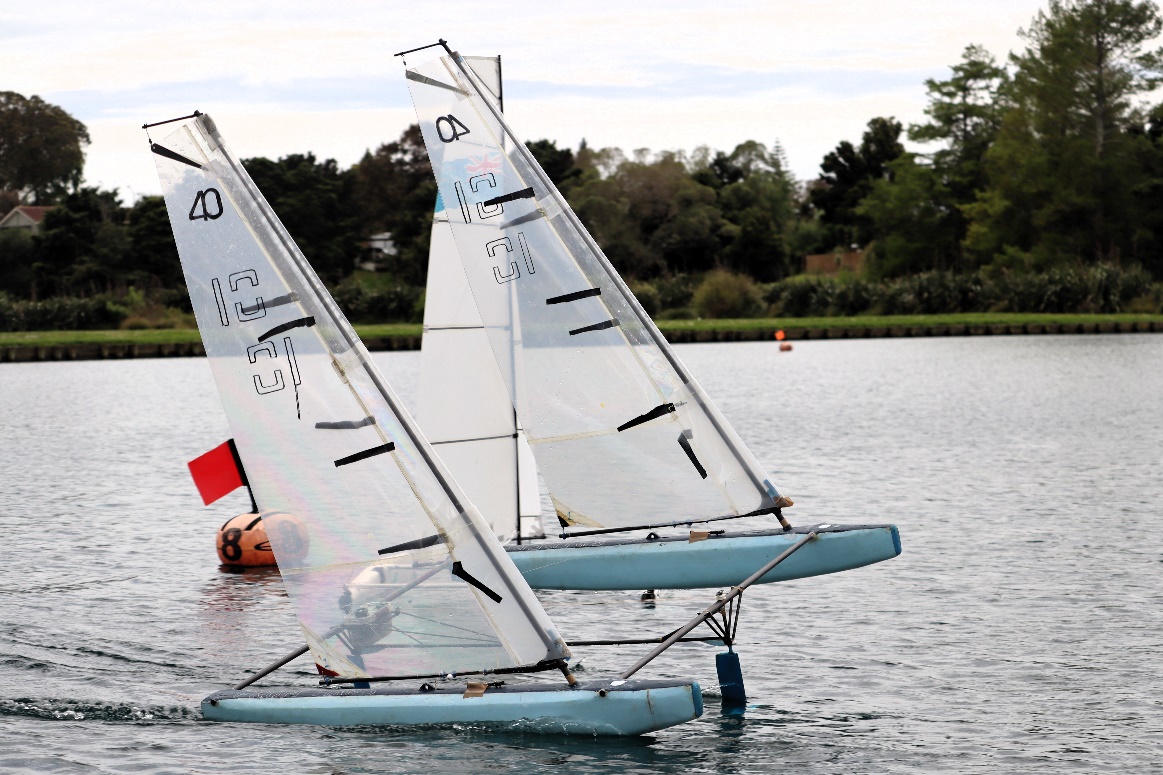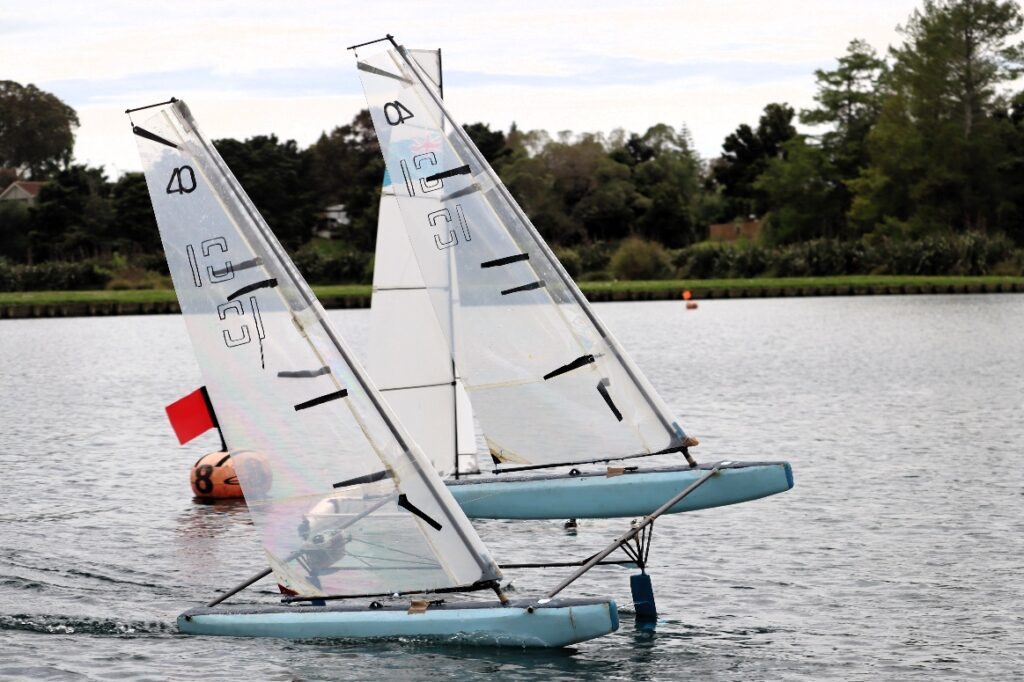 Above: Leon's twin masted cat, complete with bow and stern rudders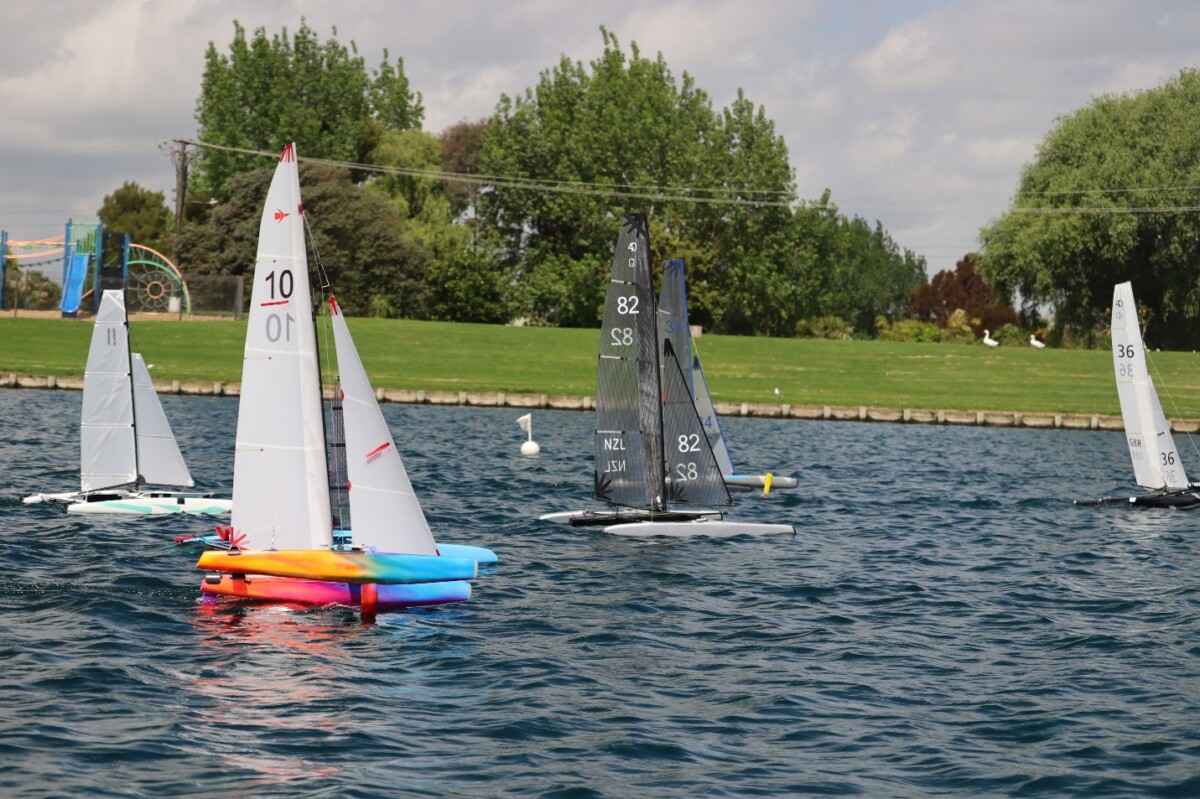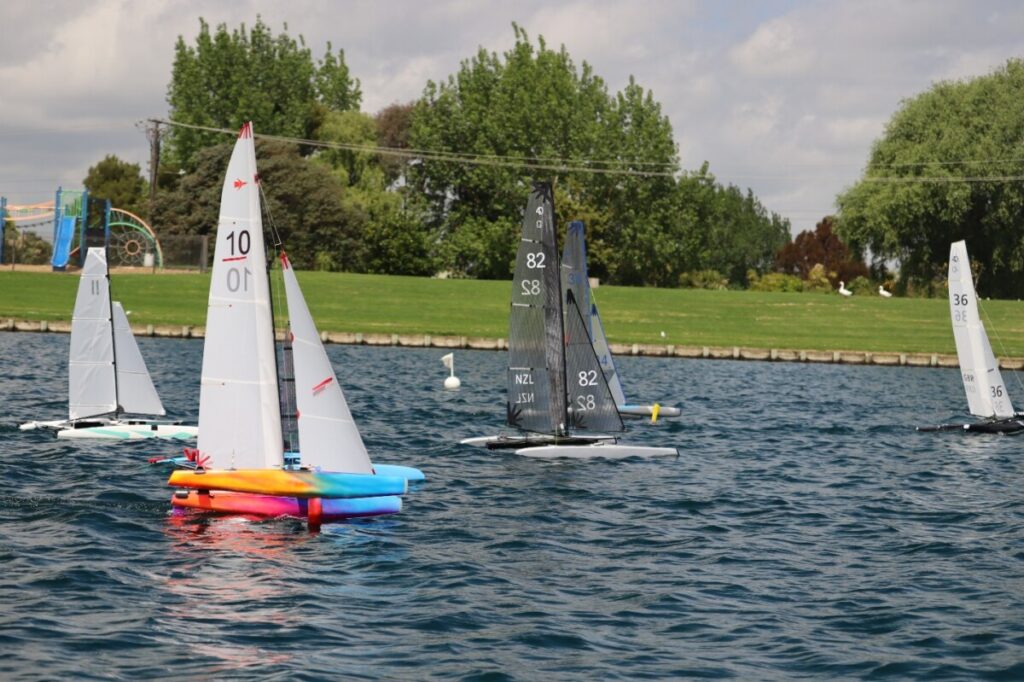 Above: going up the beat with Craig's one metre BOX in the foreground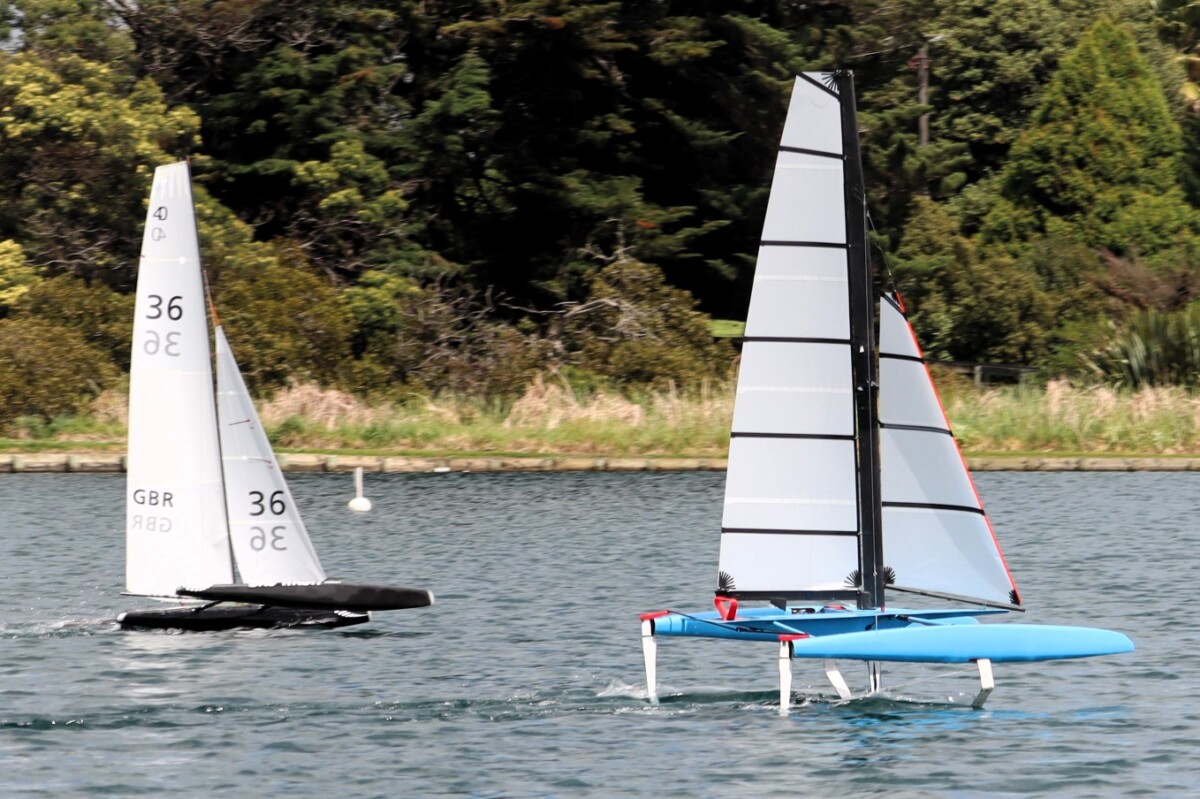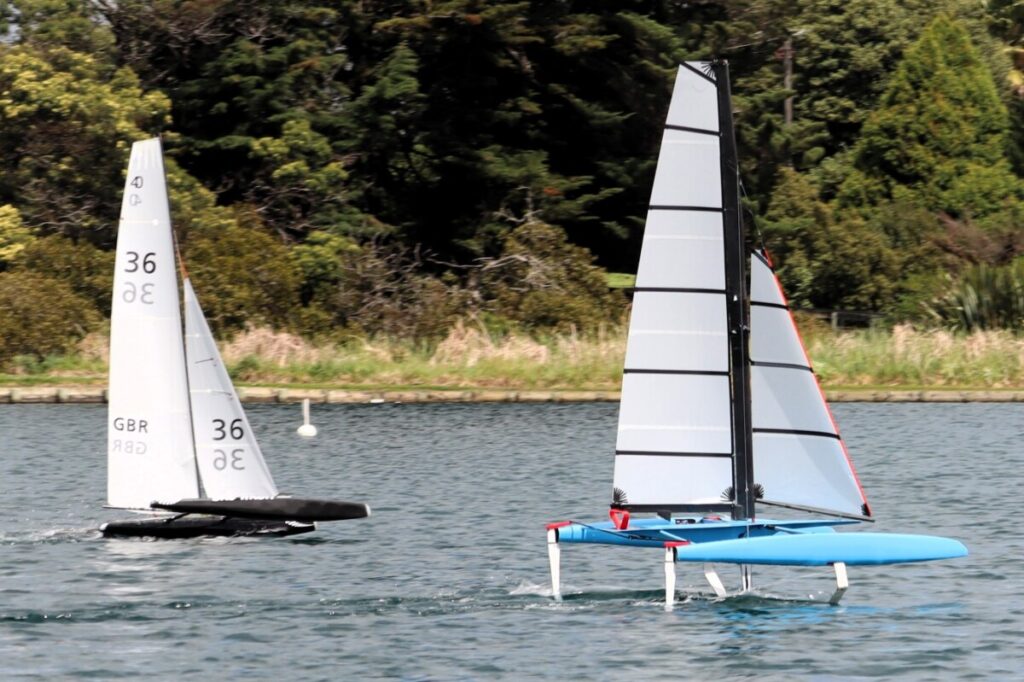 Above: a sign of things to come? Dylan's cat foiling upwind past Bad Habit. Note the wing mast and full length camber battens on the cat's A rig.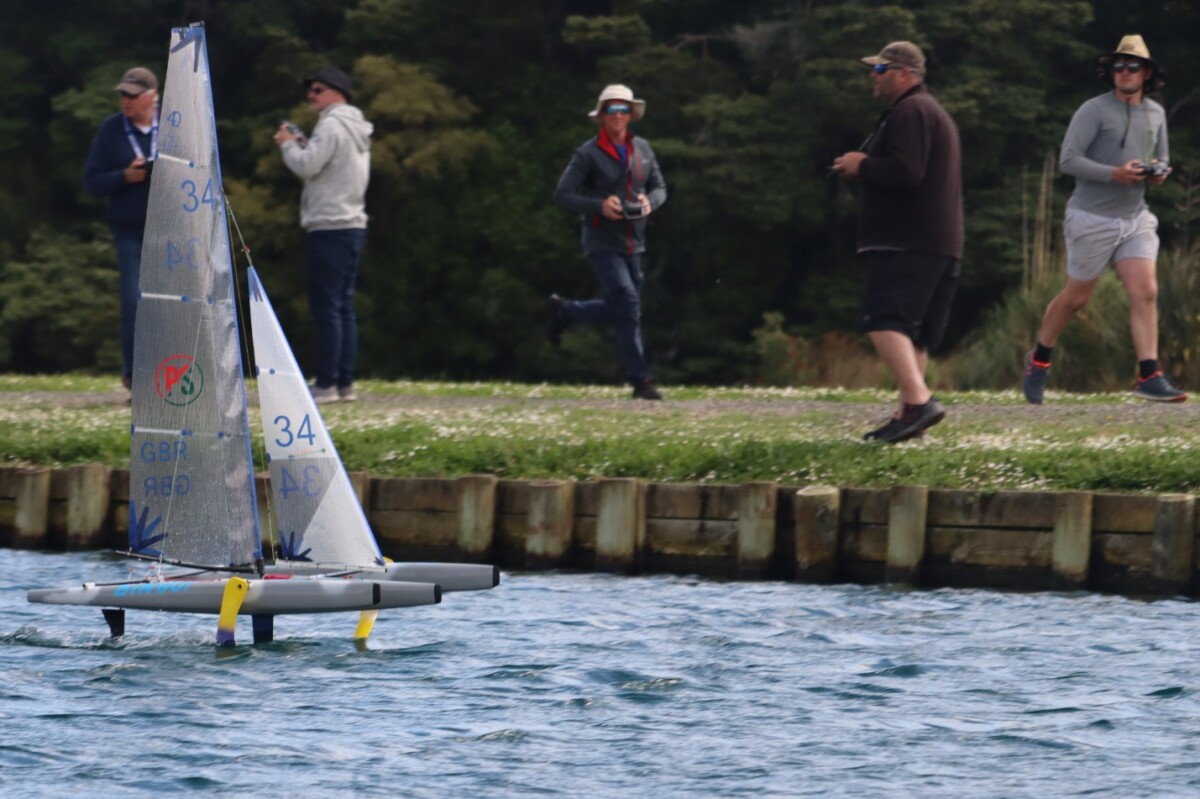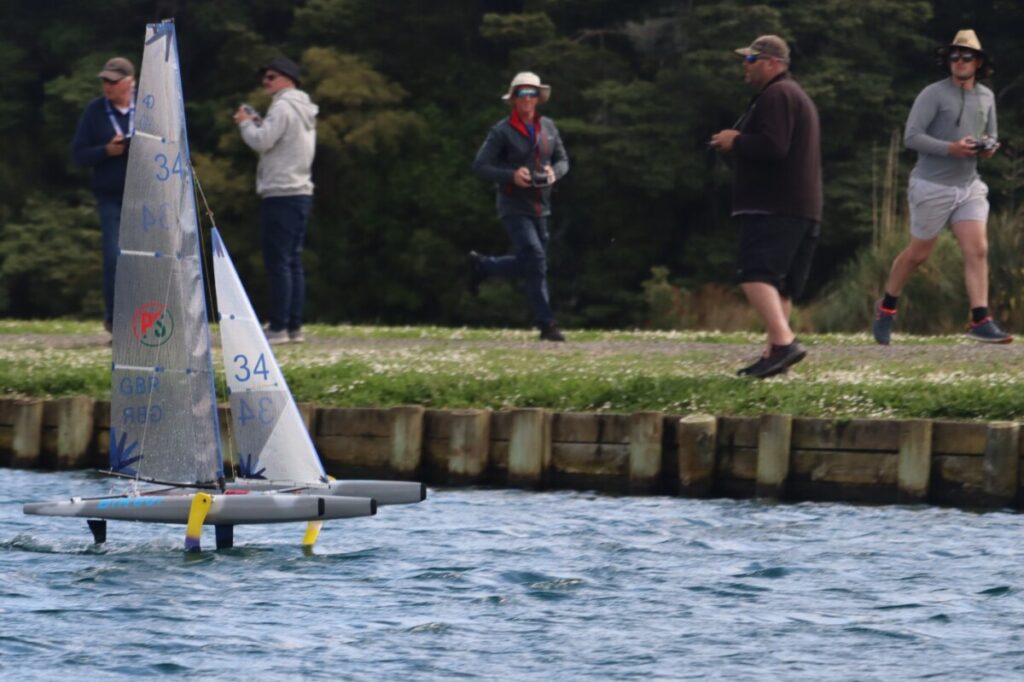 Above: Bingo!'s skipper Chris running after his tri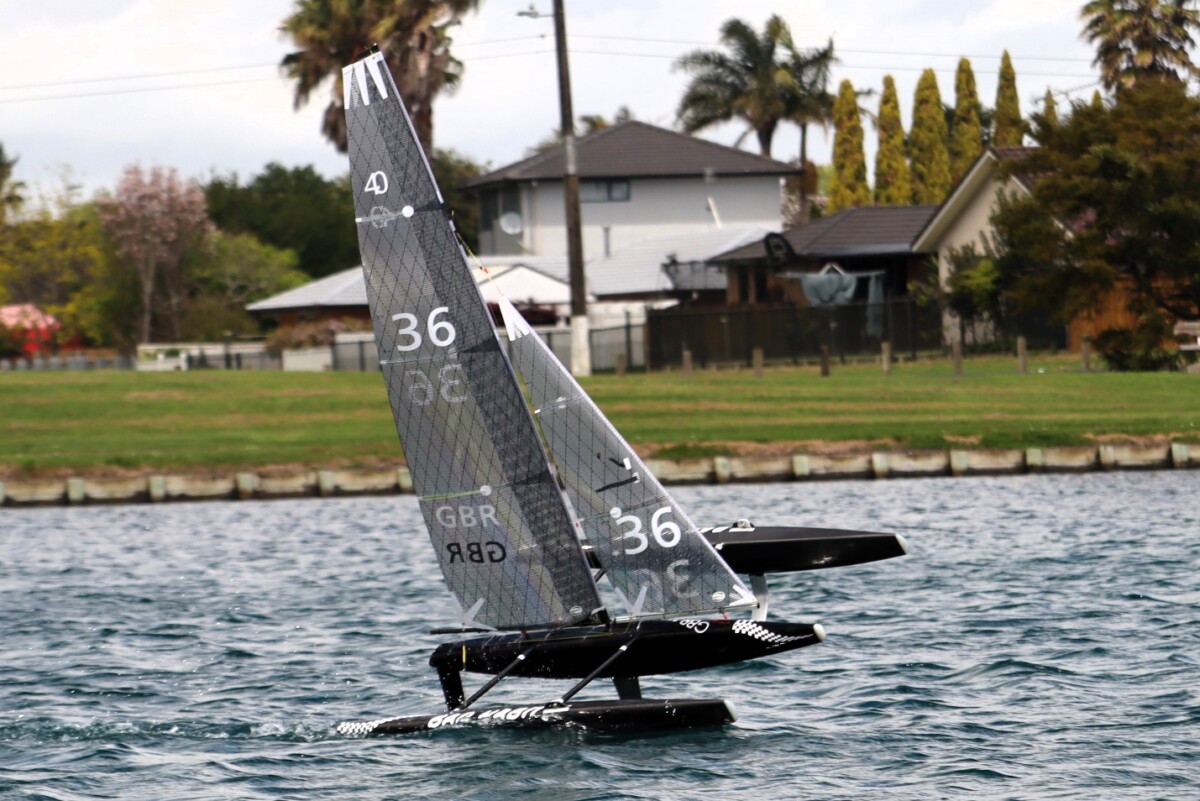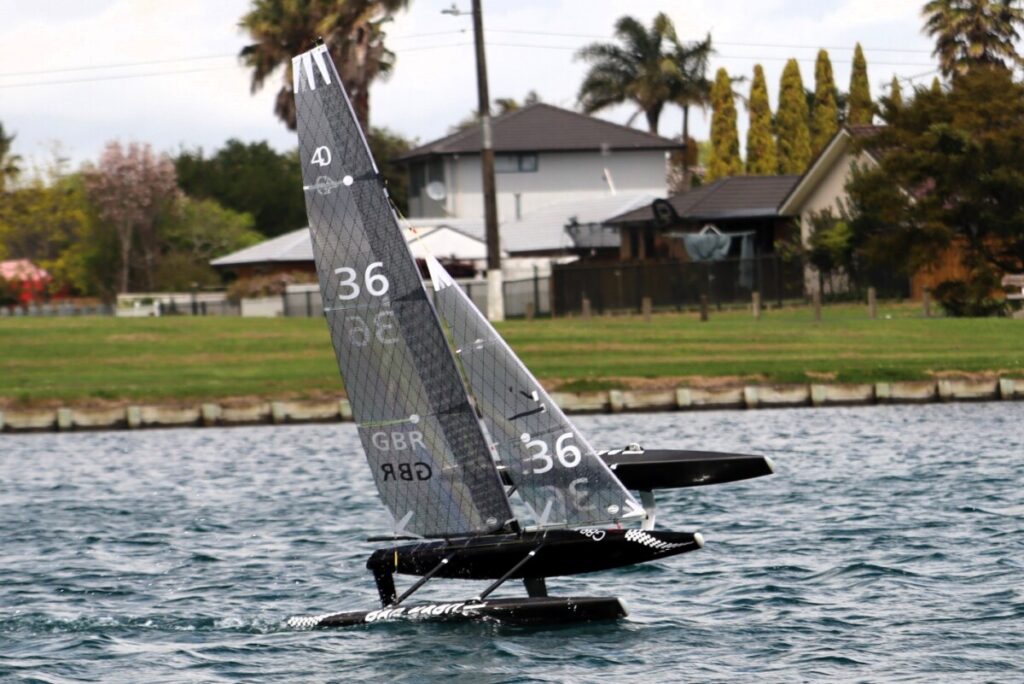 Above: Overall winner Bad Habit going upwind on the breezy Day 2 afternoon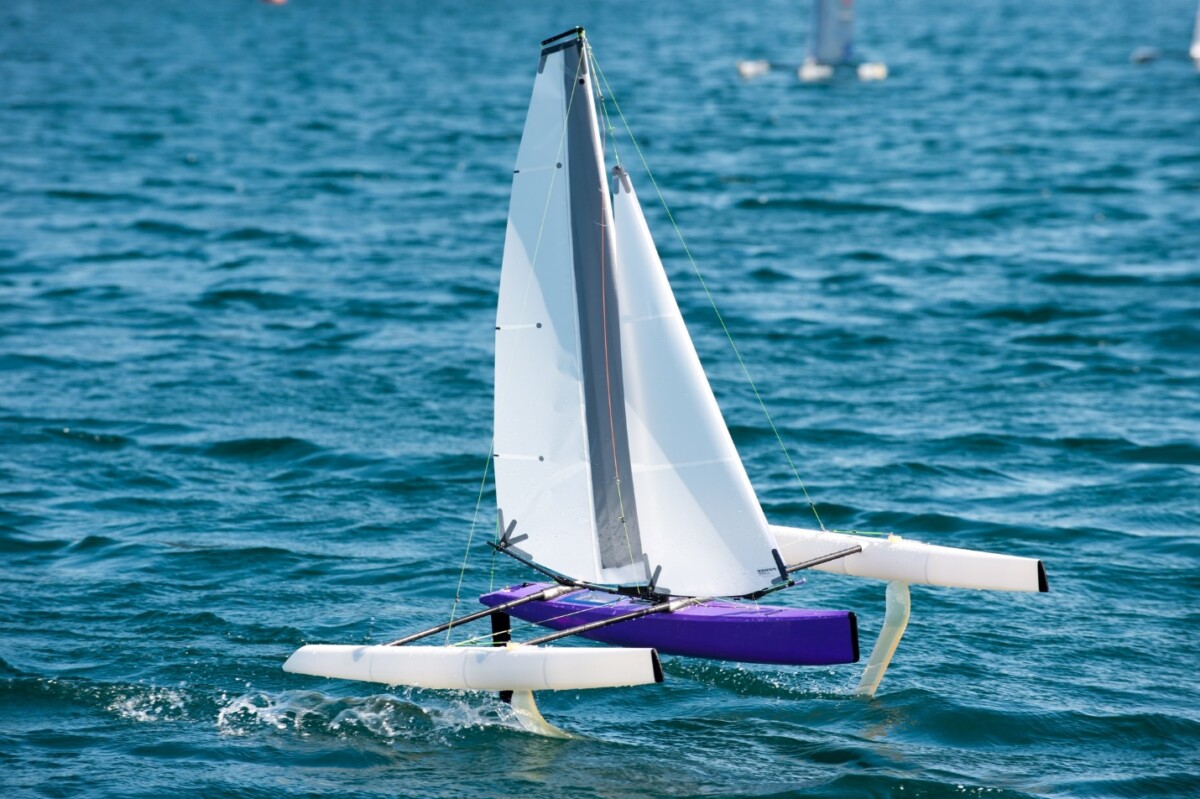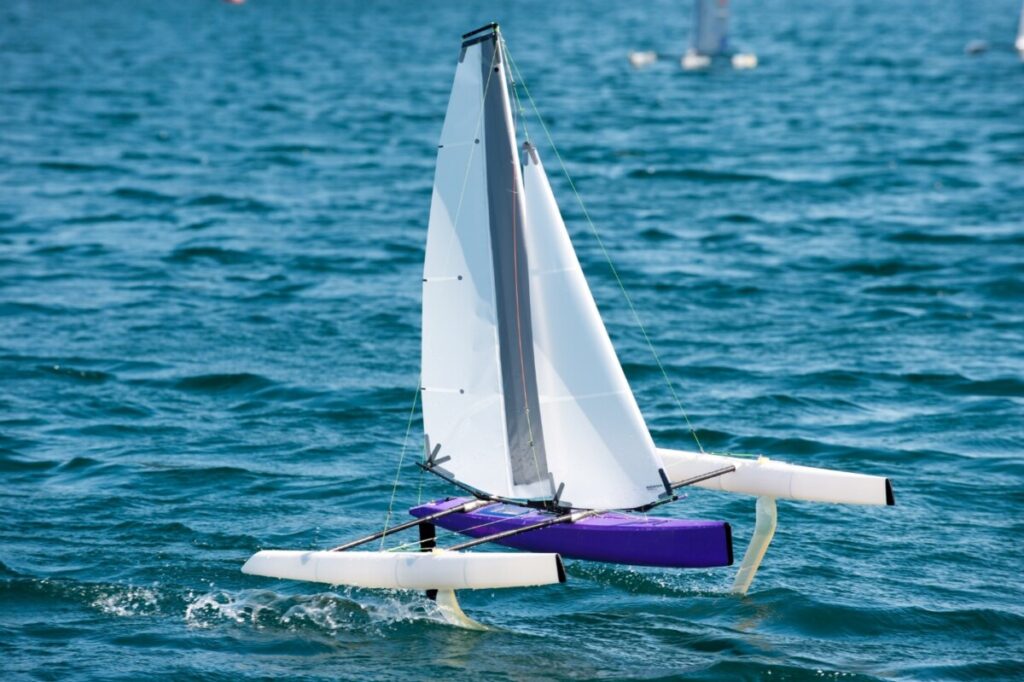 Above: Paul entertained us with a display with his DF 95 trimaran kit, now with 3D printed hulls, foils and T-foil rudder. Useful twist in the setup enabling the automatic adjustment of the angles of attack for the foils.